Ola a todos,
Halfway! I'm officially halfway through my exchange and it honestly feels surreal. To be completely honest my first month felt like it went forever but the five after that went so fast I have no idea where the time went. You know it's weird but I don't feel like an exchange student at all anymore and I actually forget that I am one most of the time. I am fluent in Portuguese now and all my friends here treat me like one of them, they even tell me that they forget I'm an exchange student a lot of the time. This country really has become my home and I can't imagine living anywhere else right now.
Anybody who knew me before my exchange knows that I'm a pretty confident and outgoing girl,  so your gonna be pretty shocked because I'm probably 10 times the person I was before exchange! This year has let me express myself in a way I couldn't in Australia and I have developed so much as a person. People say your exchange year is the year you get to "find yourself" but to be honest I already knew who I was, so I haven't "found myself" here but I have definitely been able to grow myself into a more complete person which I am so thankful for.
There are questions that I am constantly faced with here in Brazil like "why I chose Brazil?" and "what is it like being an exchange student?" But one of the questions I'm asked the most is why I would want to leave Australia, even Australians ask me why I would want to leave. For me it's easy, I mean why would I want to stay in one place when I have a whole world to discover? People tell me Brazil is dangerous and why would I leave safe Australia … it's true that Brazil is dangerous but the people here are the most welcoming and caring people I've ever met. The culture here is so strong and the sense of community is like none I've felt in Australia or any other country I've lived in.
I think it's really important to remember there's a whole world outside the country you live in. Exploring the world, discovering and learning is my passion and this year I have been able to focus on the things that make me happy … the things that make me, me. When you arrive in a new country nobody knows you, you can be whoever you want … a different person every time. I have now moved countries six times in my life and this has given me the opportunity to learn from my mistakes and help me be the best person I can. Each country I have lived in knows a different side of me but this exchange year has given me the opportunity to put all of my sides together and really become the person I want to be, the complete me. I am so thankful for the last 6 months I've spent in Brazil and will definitely make the most of the next 6 months. I can't even imagine going home in January but I know that my return is just another opportunity to evolve, learn and discover, so I'm just as excited for that as well.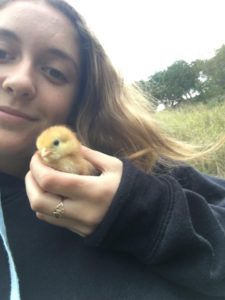 Amor,
Heidi