Oi!
As soon as I woke up yesterday morning I did what every Aussie does on Australia day, I covered myself in  temporary tattoos to show how much I love my country!
I decided the most Aussie way to celebrate Australia Day was to bake none other then the famous Pavlova. I had gone out the day before to get ingredients for the pav, but that turned out to be a bit hard because a lot of the ingredients were different to the ones at home and I only needed a small amount of everything. I needed a table spoon of white wine vinegar but I had to buy a whole one liter bottle, oh well, I guess I'll just have to make a few more Pavs!! The Pavlova started out okay but my host family didn't have the same type of mixer that we have at home so I had to use the hand beaters, but it still worked. The corn flour that I used turned the  mixture really yellow but I used it anyways as it was my only option. When the Pav went in the oven it looked pretty good, but than I realized that the ovens lowest temperature was 140 and I needed to bake it at 120, so I just baked it for a shorter time. When it came out it was a lot flatter but still looked pretty good. When it came to putting on the cream something got lost in translation, because the cream was completely different to the type I needed. Thankfully my host brother ran to the quickest shop and bought some thickened cream just in time, because the shops close at 6pm and it was 5:55pm! My host family had bought me some fresh strawberries and bananas from the local fruit market which made the pav look really good.
That afternoon the two youth exchange coordinators from my district came over to meet me and try my Pavlova. They were really nice and even gave me a Brazilian Flag as a gift! We all shared the Pavlova and I'm please to report that everyone loved it and I was really happy with how it turned out. 🙂
That night my host Dad ordered pizza for dinner and my host family was surprised that pizza in Brazil is the same as pizza in Australia. Apparently other exchange students from around the world thought that the pizza here is weird or different to their own, but I promise it's no different to the Pizza from your local Italian restaurant.
What made my Australia day is when I got a video from my family in Sydney, they were all dressed up in their Aussie gear and they had recorded themselves singing Waltzing Matilda, they also sent me updates of Skippy back home!! I hope everyone had a good Australia Day xx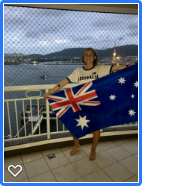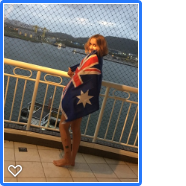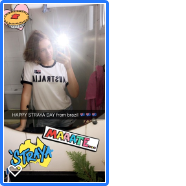 Tchau for now,
Heidi x